Private ski lessons in dorfgastein for Adults
More pleasure at every turn!
How would you like a personal ski instructor who looks only after you and your family or friends? Our private ski course in Dorfgastein is definitely the most intensive and efficient way to make big improvements in style and technique during your ski vacation in Gastein. Whether beginner or routined skier, whether on the slope or in deep snow,
Whether beginner or routined skier, whether on the slope or in deep snow, your personal ski teacher will concentrate entirely on your ability and needs. Private instruction in the Ski School Dorfgastein Holleis lets you enjoy maximum supervision. After analysis of your skiing level the personal coaching immediately begins. What you learn under the eyes of your private ski instructor will be put into practice at once.
---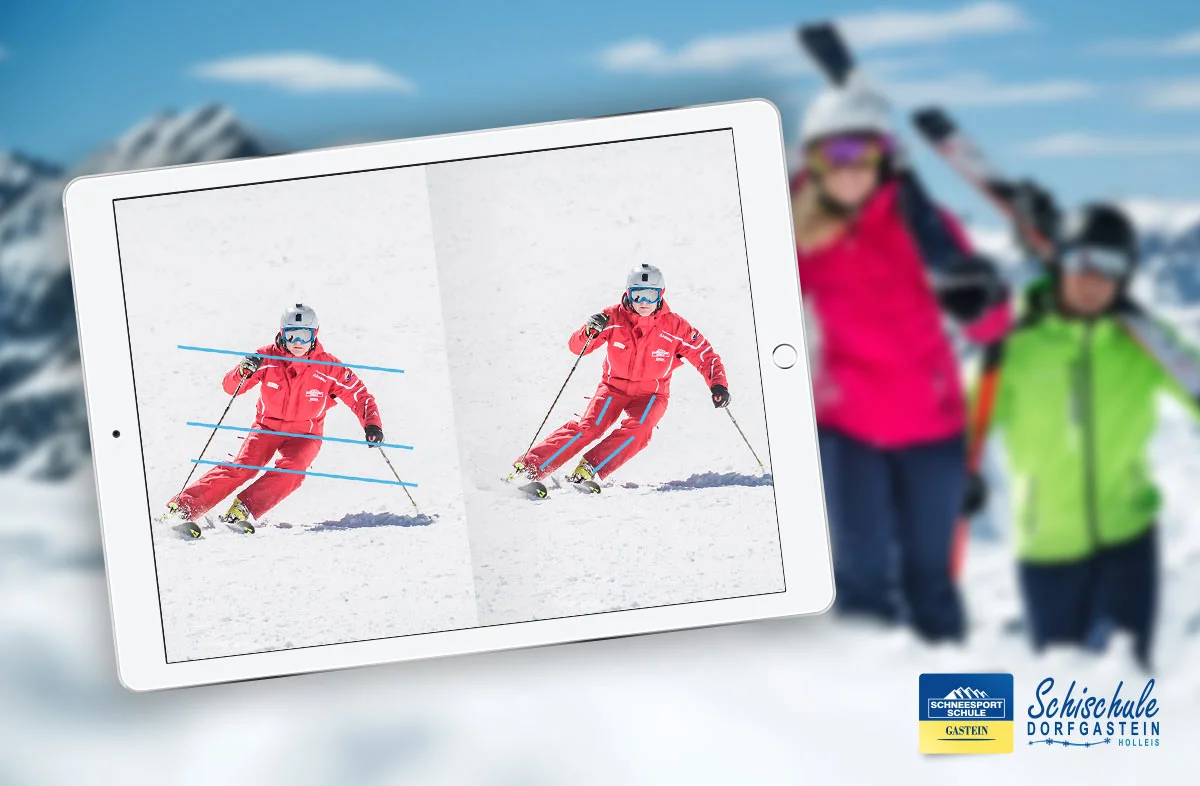 Video Coaching
With modern tablets and a special coaching app you'll improve instantly your skiing technique and style. Your private ski teacher will record your runs straight on the slope and will give you useful feedback - right there on the piste or at the big sreen in the comfortable ski lodge.

Together with your personal coach you'll analyze your skiing technique in slow-motion and with drawing tool you'll be able to identify immediately wrong body movements and poor ski control. Benefit from this innovative teaching method and book your personal coaching in the Ski School Dorfgastein.
---
Private ski course: Tailored to your needs
With our flexible course hours and meeting points you decide when/where your private ski lessons in Dorfgastein start and finish. On demand your private snowsport instructor will also pick you up at the hotel or accommodation in Gastein.
Info & Prices
Private ski lessons in Dorfgastein
Private Instruction & Private Courses
participants
1 h
2 h
3 h
4 h
1 person
€ 69,-
€ 139,-
€ 186,-
€ 226,-
2 persons
€ 83,-
€ 167,-
€ 206,-
€ 246,-
3 persons & more
€ 97,-
€ 195,-
€ 226,-
€ 266,-
SPECIAL OFFERS
Happy Hour: 8.45 - 9.45 or 3.00 - 4.00
1 person: € 60,-
additional person: € 13,-
Afternoon Special: 1.00 - 3.00
Personal coach for 2 hours: € 130,-
(unlimited number of participants)
Family Special: 4 h per day
all-inclusive price: € 245,-
(unlimited number of participants)
Ski tickets are not included in ski school rates! »ski ticket fees