Fun & games at the Gasti Snowpark
Unlimited ski pleasure for kids!
Our extended Gasti Snowpark is setting new standards! In our company-owned kids park at the base station of the cable car your children will learn to ski in Gastein easier, with lots of fun and variety.
The Gasti Snowpark is the perfect learn and play ground for beginners and advanced skiers with many training aids devised from the newest technology. Here plenty of space is available for future downhill champions to play, frolic and ski.
Our 3 conveyor belts ensure a comfortable uphill transportation of your kids and with lots of fun and playful instruction hours will simply fly by!
For the amusement, variety and quick learning progress there is also a funny ski carousel, tubing track, new practice lift, kids fun slope, vast training grounds and much more attractions available in our kids park in Dorfgastein.
And who knows, maybe you'll meet during your children's ski course in Dorfgastein our funny mascot the Gasti und experience unforgettable moments in our winter-wonderland!
The access to Gasti Snow Park in Dorfgastein is for all course participants of the Ski School Dorfgastein Holleis free of charge!
---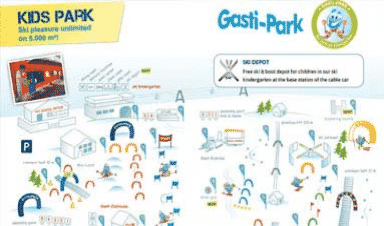 Kids Park (pdf)
For your Kids only the Best
ski kindergarten next to the Gasti-Park
practice lift with big learning erea
3 conveyor belts with extensive training grounds for kids
ski carousel: here the kids learn the turns and how to use the lift
Gasti Express: for the easy transfer of your kids to our training grounds
Gasti Clubhouse: heated warming and play room with tea bar
Gasti show-stage: daily warming up, animation, victory cermenoy
Gasti Express: for the easy transfer of your kids to our training grounds
kids fun park with wave track, obstacle course, race track, fantasy forest , fairy tale field, ...
safety park with Gasti's training gondola, piste rules, original piste and danger signs
up to date training aids: magic-sun, magic-step, snowsails, tubes, ropes, snow brushes, fun-noodles, poles, ...

​NeW in our Gasti Snowpark
free ski & boot depot for children and their parents
modern snow gun for snow guarantee
Gasti bouncing castle for funny games and action
NEW since 2016/17
new button lift (220 m) with spacious children's paradise, magic carpet, fairy tale forest and innovative practice area at the base station